5 Stress-Reducing Tips for Planning a Trip to Disney for a Child With Special Needs
Therapies and Resources for Children with Autism & Families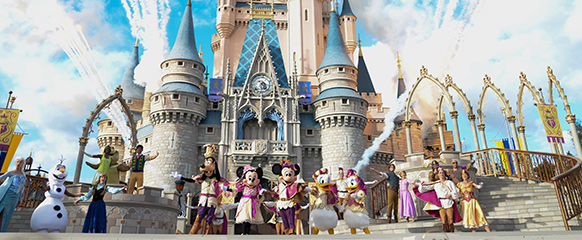 At some point, every child dreams of going to Walt Disney World. There are very few childhood experiences that compare to the first time your child sets eyes on Mickey Mouse or Cinderella's glimmering castle. There is a certain amount of magic in those few moments that just can't be denied. But, for parents of children with special needs, amusement parks like Disney World pose a unique set of challenges and complications. With careful planning, patience and a few insider tips, you can make the magic come alive and enjoy creating memories in the happiest place on earth.
Now is the best time to start preparing for vacation with your child. The earlier you can start planning, the better you can manage expectations that there will be interruptions in your child's routine and manage the stress associated with it.
While every major theme park is a little different in their accommodations for children with special needs, it helps to know what is available. Use the following tips to make your experience memorable and enjoyable for your entire family:
1. Obtain a Disability Access Service (DAS) Pass.
Unique to Disney parks, a Disability Access Service pass allows some necessary accommodations designed to help reduce stress for parents of children with disabilities. The pass allows guests to avoid waiting in long lines for rides and attractions by providing designated times to return and skip the wait. It also alerts staff members that your family may need other unique accommodations throughout the day.
2. Communicate Your Child's Needs.
Many parents of children with disabilities or special needs think that obtaining the DAS pass is all they can do to reduce stress throughout the day. However, one of the best things a parent can do is communicate to Guest Relations any specific needs your child may have. The park will make exceptions and accommodations in the best way they can. For example, if your child is prone to repetitive or ritualistic behaviors, they may need to ride the same ride multiple times in a row. Or, if you are worried about sensory overload, staff can allow your child to remain in their stroller, use noise canceling headphones, or bring in comfort objects that may otherwise be denied from certain attractions. Just be specific when speaking to staff members.
3. Avoid Sensory Overload by Planning Ahead.
While Disney World and other theme parks can be exciting, they can also be overwhelming – for pretty much everyone! Planning is the best way to ensure you get the most of your time in the parks, while also helping to ensure your child has some semblance of a routine to follow. Plan out your days around major attractions – parades, live shows and your attraction ride times – and build in time for rest, naps, and eating. Plan on going back to the hotel throughout the day to relax and allow your child time to process things.
4. Plan for Bumps in the Road.
The Disney World theme parks are enormous. Having a child get lost in the crowd is common whether or not your child has special needs. If you know your child tends to wander, wearing colored shirts can help you stand out in the crowd. It can also be helpful to designate a meeting point in case of separation. Having your child wear a labeled shirt or pin is a good way to alert others that they may need additional help if they are separated from you.
5. Be Realistic About What You Can Do.
The best way to avoid stressing yourself out and overwhelming your children is to only plan what you can truly handle. There is so much to see and do – it is necessary to be selective. Before your trip, sit down with your children and identify the things that are most important to them. This way, you can build those into your days first, and add things based on what time allows.
Worried about your child wandering into a crowd? Companies like SafetyTat produce custom temporary tattoos that are available in case your child wanders off or gets lost in a crowd.
When you spend months putting together a magical vacation to a major amusement park like Disney, it can be easy to get lost in the details. Be prepared to throw your plans out the window if you can tell your child is struggling. It's better to create a few amazing moments than to fight through the stress of accomplishing everything you planned. Listen to your child's needs and know that you are doing the best you can.
Interested in learning more about planning a Disney vacation for children with special needs? Check out this guide from Walt Disney World Resorts on planning a vacation for guests with cognitive disabilities.
Looking ahead to the summer, local amusement parks like Cedar Point offer special accommodations and passes as well.