Camps
Therapeutic and Recreational Camps for Children
Throughout the year, Peak Potential Therapy provides several options for children of all ages to participate in therapeutic and recreational camps. These camps provide a safe, comfortable setting for your child to practice important social skills, maintain a routine through breaks from school, and—most importantly—have fun with friends! Only 14 percent of all typical camps are available to children with Special Needs. We created these camps because we believe strongly that every child should have an opportunity for a wonderful camp experience.
All of our camps feature the following:
Facilitation by a Peak Potential Therapy staff member
Low ratios of children to staff members
An environment in which every child will be successful
Affordable pricing options
Learn more about each of our unique camp offerings:
For each of our camps, you can reserve your child's spot with a $100 deposit per registered week and complete the necessary registration forms online. In an effort to make camp more affordable, families who register and attend multiple weeks will receive a 10% discount on the regular cost of camp for weeks.
Spring 
Summer 
Winter 
Grant Funding Sources
We understand that for many families, finding financial assistance and grant funding for therapy services can be a struggle. To help make it easier to access these resources, we've compiled an extensive list of grant sources. These sources can provide financial assistance with a variety of therapy services provided by Peak Potential Therapy.
Camp Testimonial
"Peak Potential Therapy has been an invaluable resource to our family. The biggest impact they have had has been on my 4-year-old's speech. He has been attending summer camp for 6 weeks with them and already we have seen remarkable improvement. When he started we had one and 2-word statements. Now he can use full sentences and his articulation and amount of words are improved as well. He has also started to sing which he didn't do before. We are just thrilled with these improvements as it has made parenting him so much easier now that we can communicate with him better.
Holly is also just a wonderful wealth of knowledge and encouragement. She helped our family understand the overwhelming world of paperwork that comes with special needs education and funding.  The staff are also so caring, helpful, and understanding. My family looks forward to continuing to work with Peak Potential Therapy." – Karrie Fries (Google review: August 2020)
Camp Descriptions
Below is information pertaining to each of our camp offerings. For our summer 2023 camps, register by March 31 to save up to $100 with the Early Bird discount! 
Progress Reports (ESY) are also available for an additional $105.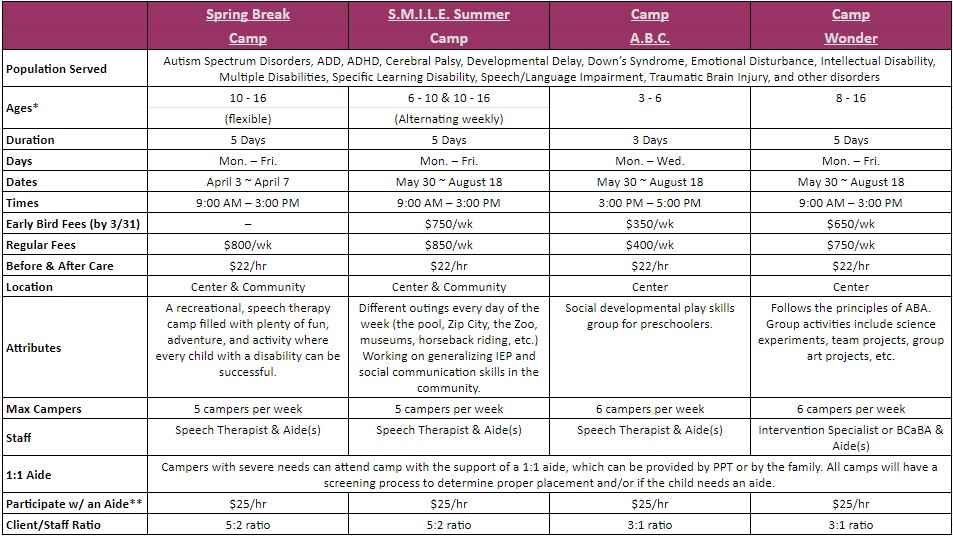 *Please note that the ages listed for each camp are flexible based on ability.
**If a child needs an aide to participate in group activities and maintain their safety, then they can participate in the camp with an aide.
Have Questions?
Simply complete the Contact Form to have all your questions answered.