Camp Wonder
A Wonderful Way to Learn, Play & Develop Social Skills with ABA!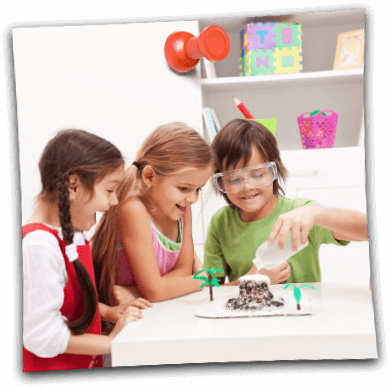 Camp Wonder is an academic & therapeutic day camp lead by certified professionals applying the principles of Applied Behavior Analysis.  The program was designed and is overseen by a licensed Speech-Language Pathologist and a BCBA Trainee.  Your child will participate in daily learning activities designed to improve social skills, communication, behavior, independence, and academics. We also welcome siblings and friends to attend our community inclusion program!
Group activities will be science experiments, team projects, group art projects, and more. Weekly themes are exciting and engaging, which encourages active participation and learning. Our daily schedule provides opportunities to explore, experiment, develop problem-solving skills, and create friendships.
This camp can be used to supplement ESY, or in place of ESY while being funded by the school district.
Before and aftercare is available and follows the same pricing model as SMILE Summer Camp.
Ages:  6 – 16 years (flexible based on ability)
Disability: Autism, ADHD/ADD, Intellectual Disability, Speech and Language Impairment, Developmental Delay, Other Health Impairment, Emotional Disturbance
Contact:  Holly Reimann, MA, CCC-SLP, Owner
Email:  contact@peakpotentialtherapy.com
Dates:  May 30 through August 18
Days: Monday – Friday
Time: 9:00 AM – 3:00 PM
Fees: $650/week (before March 31) or $750/week (after March 31)
Before & Aftercare is available for Camp Wonder for an additional $22/hour.
If a child needs an aide to participate in group activities and maintain their safety, then they can participate in the camp with an aide for an additional $25 per hour.
To register for Camp Wonder 2023, click below.
Register Today
---
Spaces Available
Flexible scheduling allows parents and families to register for individual weeks or the whole camp. The camp is purposefully kept to a limited number of campers, which allows the staff to provide direct attention to each camper while within a small group instruction. Space is limited to a max of 6 kids per week.  Staff to Camper ratio will be maximum of 1:3.
Optional services for additional fees: Before/After camp care, progress report, & photo album. Children with aggressive behaviors, non-verbal, or with multiple disabilities can attend with the support of an individual aide (additional fee).
Camp tuition includes supplies, visual schedules, transition supports, and daily data collection on IEP goals. We can bill for camp to County Boards of DD, Autism Scholarship Program, Jon Peterson Scholarship, school districts for ESY, insurance, PASSS, and more. We have a list of grants and scholarships to make camp affordable for every family.