Speech-Language Therapy
Pediatric Speech Therapy serving the greater Cleveland & Akron communities
Speech therapy helps a child succeed both academically and socially.  Improving speech skills builds confidence that impacts all aspects of a child's life. At Peak Potential Therapy, we combine speech modification techniques with relaxation and sensory regulation to enhance the child's overall communication skills. We offer speech-language therapy for children of all ages.
Our speech pathologists assess and treat children with speech, language, and fluency disorders. We help children who:
cannot make speech sounds, or cannot make them clearly
have problems understanding and producing language
have speech rhythm and fluency problems, such as stuttering
have oral-motor problems that cause eating and swallowing difficulties
Our speech-language therapists keep records on the initial evaluation, progress, and discharge of clients. This helps pinpoint problems, track client progress, and justify the cost of treatment when applying for reimbursement. We are able to provide speech-language therapy services at our Center in Northfield, in-home within a certain distance, and online for any Ohio resident.
How can you determine if your child needs speech therapy?
Complete an age-specific questionnaire to get a better idea of your child's abilities, and to help determine if a formal evaluation of your child's speech and/or language is needed. We have screening quizzes available for children ages 12 months, 2, 3, 4, and 5 years old.
What is online speech therapy?
Through the use of a digital webinar platform with audio and video capabilities, we can provide the same interactive, meaningful speech-language therapy sessions to your child online as we would in person. This is a great option for parents whose children are homebound, who do not have the ability to transport their child to our center in Northfield, or who live outside of the Greater Cleveland-Akron region. We are licensed to provide online speech therapy services to residents in Ohio.
What are the benefits of online speech therapy?
Many families struggle to find a clinical therapy professional nearby to best serve the needs of their child. With the development of online speech therapy, your child gains the ability to receive therapy from a trusted professional through a live, secure video. We find our students to be highly engaged and active during these online sessions tailored to their goals and interests, which are just as effective, if not more than, in-person therapy sessions.
Are you seeking caring, effective speech-language therapy for your child? We serve kids of all ages. Contact the team at Peak Potential Therapy, based in Northfield. To begin the process of registering your child for speech-language therapy, complete the Registration Form today. Our Fee Schedule can be found below.
Register Your Child for Speech Therapy
---
Speech Therapy Testimonial
"Peak Potential Therapy has been an invaluable resource to our family. The biggest impact they have had has been on my 4 year old's speech. He has been attending summer camp for 6 weeks with them and already we have seen remarkable improvement. When he started we had one and 2-word statements. Now he can use full sentences and his articulation and amount of words are improved as well. He has also started to sing which he didn't do before. We are just thrilled with these improvements as it has made parenting him so much easier now that we can communicate with him better. Holly is also just a wonderful wealth of knowledge and encouragement. She helped our family understand the overwhelming world of paperwork that comes with special needs education and funding. The staff are also so caring, helpful, and understanding. My family looks forward to continuing to work with Peak Potential Therapy." – Karrie Fries (Google review: July 2020)
---
Start Speech-Language Therapy Now…
Register Your Child for Speech Therapy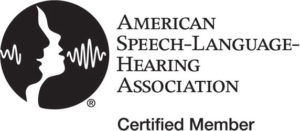 ---
Fee Schedule & Insurance
A fee schedule and a list of health insurances accepted at Peak Potential Therapy can be found on our Policies page.
---
Grant Funding Sources
We understand that for many families, finding financial assistance and grant funding for therapy services can be a struggle. To help make it easier to access these resources, we've compiled an extensive list of grant sources. These sources can provide financial assistance with a variety of therapy services provided by Peak Potential Therapy.
---
We also accept the CareCredit healthcare credit card. CareCredit is a healthcare credit card designed exclusively for healthcare services with special financing options such as those offered by Peak Potential Therapy.