Friday Night Fun: Tips to Help Your Child with Sensory Sensitivities Enjoy the Football Game
Therapies and Resources for Children with Autism & Families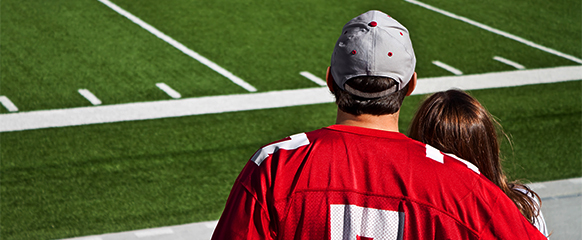 Friday Night Lights Are Back
Helping Your Child Enjoy Northeast Ohio's Fall Pastime
Fall is a season of transition, and it brings with it some unique challenges for children with sensory issues – school is starting (or, for some, has already started), Halloween is just around the corner, and there is so much more happening! But, when the air gets crisp and the local coffee shops start pushing pumpkin spice lattes, you know that it's time for football in Northeast Ohio. Football is in the blood of Cleveland-area folks. We live and die with the Browns on Sundays. We cheer on the Buckeyes every Saturday. And, on Friday nights, we cheer on our kids, our neighbors, and every other kid participating in the festivities associated with high school football. From the players on the field to the marching band and spirit squad, almost everyone knows someone who will be a part of the action at the games on Friday nights. This makes it mandatory for many of us to make an appearance at the stadium, and for children who are sensitive to sensory stimuli, this can be quite traumatic.  
There are some things to look out for and keep in mind when preparing for a trip to the gridiron that can make Friday nights a little less frightening for your child who deals with sensory overload!
Do a little pre-game strategizing!
The fewer surprises, the better. Discuss what a game is like. Use visual aids to show them what a marching band is like and what the bleachers look like. Watch a game on TV so your child can see what happens on the field. Give them some idea of when the band might play music. Visit the stadium without the crowd and get your child used to the surroundings.
Bring a cushion.
For some of us, sitting on bleachers can be very uncomfortable. For a child with sensory issues, it can be downright unbearable. A hard surface can lead to agitation and cause your child to have a tough time sitting. Bring a cushion or pillow to help with that feeling! Or, forget fighting to get them to sit, and go to the back where they can pace or walk around without bothering the view of others. 
What's on the menu?
Ballgames and snacks go hand in hand, but the menu isn't always diverse, and many kids that have sensory issues can be finicky eaters. Check with the school or boosters to see what the concession stand is serving. They might surprise you (chicken nuggets are popping up at more and more high school concession stands), but if it's traditional fare and your child won't enjoy the choices, bring your own options. Most schools have a pretty liberal food policy for what you can bring in with you.
Take a break.
If the noise and pageantry are getting the best of your child, take a walk. There are usually some quiet places on the ends of the stadium that you can sneak off to for a breather. Sometimes, a break can buy you more time to stay in the stadium with the action. But…
Be prepared for an early exit.
You might make it the entire game. You might make it until half-time. You might not make it through introductions. You know the signs, and you know when things are turning a corner. If it looks like things are going south, you might need to be prepared to make an exit. The child you are coming to see will understand. Let them know before the game that you might need to leave early. If your child is playing, see if you can make arrangements for another parent to record the game or keep you posted with social media updates. Let the participants know that they are valued and loved. 
You are not the first parent to face this scenario. Peak Potential Therapy is here to give advice that is specific to your child to help you prepare for events like this. Our approach is to not only provide therapy on-site but help your child prepare for life outside of a clinical setting. Peak Potential Therapy provides services for life on your child's terms, not always at our therapy center. Contact us today to take advantage of Peak Potential Therapy's services – at home, in school or in the community.