Join Peak Potential Therapy for a Day of Family Fun
Therapies and Resources for Children with Autism & Families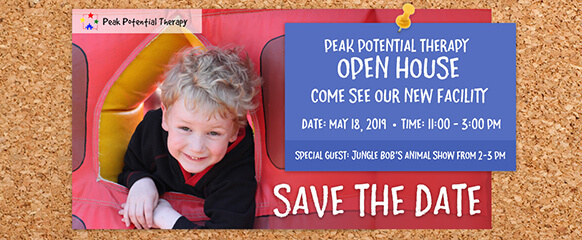 Be a part of our 2019 Peak Potential Therapy Open House as we celebrate all the families and children that make our efforts worthwhile. This event is your chance to tour our NEW facility, learn more about our offerings and services, and have a day of fun with your entire family.
Mark your calendar! Join us May 18, 11 a.m. to 3 p.m., rain or shine, for a catered lunch, bounce house, Jungle Bob's Animal Show, and other fun activities for the family. We are excited to give you a glimpse into what our facility provides, in order to help kids reach their peak potential.
Tour Our New Facility
We encourage you to come to meet our team and have fun at our grand opening event. With the opening of our new facility in early January, we have been able to expand our reach and continue to focus our attention on providing high-quality speech therapy, ABA therapy, educational tutoring services, and a variety of day camps for children with special needs or disabilities in Northeast Ohio.
Our new location is located on Sagamore Hills Blvd. in Northfield, Ohio and offers 6,000 square feet where we play and work. The new Peak Potential Therapy location still offers the same personal, family-friendly feel our clients expect, with the added benefit of updated spaces. The location offers more space for children to play, additional treatment rooms for one-on-one sessions, as well as a cafeteria where young clients can eat and kitchen where teen clients can develop valuable life skills. The entire location was intentionally designed to be clean, professional, spacious, and most of all, child-friendly.
We are proud of our new location and would love for all of our current clients and prospective families to see it during our open house on May 18.
About Peak Potential Therapy
Peak Potential Therapy opened its doors in 2008 with the goal of providing the best quality care for clients in their home, school, and community, as well as at our therapy center. Over the past 11 years, we have expanded our reach while staying true to our commitment to developing effective programs for each child we work with.
Our organization supports early, intensive, and consistent therapy for children because research has proven that early and intensive services can lead to improved outcomes long-term.
Be sure to save the date for our Peak Potential Therapy Open House on May 18, 2019. We look forward to seeing you and your entire family.