Peak Potential Therapy Announces Date for 2019 Open House Grand Opening
Therapies and Resources for Children with Autism & Families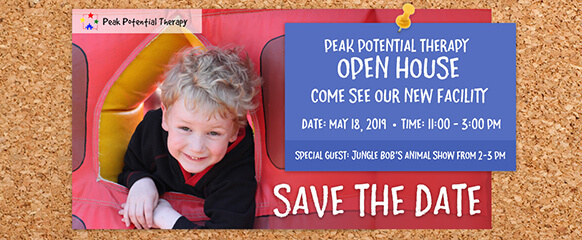 Peak Potential encourages families to tour new facility, learn more about offerings and services, and enjoy a day of fun activities.
Northfield, Ohio – May 18, 2019
Peak Potential Therapy is especially excited this year to showcase their new facility. At their open house grand opening event, it will give families a chance to tour the facility, engage with their staff and professionals, meet new people from the community, and enjoy a day filled with fun activities appropriate for the entire family.
Join the fun of the Open House on May 18, from 11 a.m. to 3 p.m. for a catered lunch, bounce house, Jungle Bob's Animal Show, and other fun activities for the family. Peak Potential Therapy is excited to share their new 6,000 square foot facility with long-time clients and welcome new clients on this special day.  
"If you have attended one of our open houses in the past, we encourage you to come back this year to experience the excitement, hard work, and energy that has gone into opening our new, larger facility earlier this year," said Holly Reimann, Founder of Peak Potential Therapy.
The new Peak Potential Therapy location still offers the same welcoming, family-friendly feel clients expect, with the added benefit of an updated therapy center. The Northfield location offers more space for children to play inside and outside, additional treatment rooms for one-on-one sessions, as well as a cafeteria where young clients can eat, and a kitchen where teen clients can develop valuable life skills. The entire location was intentionally designed to be clean, professional, spacious, and most of all, child-friendly.
The event will take place, rain or shine, at their new location at 7689 Sagamore Hills Blvd in Northfield, Ohio. The goal is for current clients and prospective families to tour the new facility, have fun, and to find out more about all that Peak Potential Therapy has to offer.
About Peak Potential Therapy
Since 2008, the goal of Peak Potential Therapy has been to provide the best quality of care for clients in their homes, school, and community, as well as in our therapy center. We offer high-quality speech therapy, ABA therapy, educational tutoring services, and a variety of day camps for children with special needs or disabilities. We serve a range of age groups starting at 2 years of age and customize our treatments to each child's individual needs. Learn more about Peak Potential Therapy.
# # #